Flame Point Siamese cats are one of the rarest breeds in the feline world. Despite their rarity, they share several behavioral traits with Siamese cats that make them great pets.
Flame Point Siamese cats have lots of energy and are active throughout the day. They're vocal, needy, and protective over their family. They're also tolerant, which makes them good pets for families with young children. Flame Points are gentle, curious, laid back, and highly intelligent.
Even though Flame Point Siamese cats can be hard to find, they're sometimes available for adoption through rescue centers, as owners underestimate how much time and attention they need.
What Is a Flame Point Siamese Cat?
Flame Point Siamese cats are a rare purebred breed, which are characterized by:
Red tips on their ears and face
Orange stripey tails
The rest of their bodies are predominantly white; some develop orange tabby markings.
Piercing blue eyes like regular Siamese cats.
Flame Point Siamese cats are a cross between a classic Siamese and a red or orange tabby American shorthair. This creates the orange point colors that they're known for.
They were first bred in 1930. It took a significant amount of experimentation to blend the orange flame coloration and the desirable Siamese personality traits. Interestingly today, around 75% of Flame Point Siamese cats are male.
They're not easy to find, so those looking to own one need to go to licensed breeders. The average price of a Flame Point Siamese cat ranges from $400 to $2000, depending on the age, the pedigree of the parents, and the breeder's reputation. When getting one, make sure that:
You only buy from a reputable breeder
The breeder has the relevant paperwork
There are no apparent health problems
You don't take your cat home until it's at least 8 weeks old
Other Flame Point Siamese facts include:
Height: 16-21 inches
Weight: 9-14 pounds
Lifespan: 15-20 years
Personality of Flame Point Siamese Cats
As mentioned, Flame Points share several personality traits with their pure Siamese cousins. Alongside their beautiful coloration, their gentle and fun-loving temperament is what makes them so popular. These are the most prominent Flame Point Siamese cat behavioral traits:
1/ Active
Flame Point Siamese cats are constantly active and on the go throughout the day.
They have loads of energy and need plenty of exercise to burn it off. They love to pounce and jump around and can't get enough of playing with their favorite toys and games.
This does mean that they are best suited to families with lots of time to spare. They can become naughty and destructive if they're left on their own for too long or don't have access to the outdoors.
They're not the type of cat breed to stay in and sleep all day.
2/ Vocal
Flame Point Siamese are very vocal and meow at everything they hear and see. This is one of the most endearing aspects of their personality. They're well-known talkers and vocalize to get things they want, such as food and cuddles. They also like to try their luck, as they'll continue to vocalize after you've catered to their needs.
They have a deep, low voice, which they get from the Siamese side of the family. It's not too unpleasant to listen to, but it's loud and can sometimes come as a surprise. It's also persistent and can continue into the night.
They don't just meow. They follow their owners, chattering and crying away using their own feline language. If you listen attentively enough, you can gauge what your Flame Point wants through the sounds it makes.
3/ Needy
Flame Point Siamese cats demand attention all day long. They can't get enough of their owners' company and constantly need to know where they are.
They're loyal pets, but they also require the same amount of dedication from their owners. While this is a loving and friendly part of their personality, it can sometimes become overbearing.
This intensely affectionate behavior predominantly comes from the Siamese genes. Flame Points become too fixated on their owners and find it difficult to be left alone. This can make them depressed and anxious.
Some Flame Points become one-person cats and develop an intense jealousy of other pets and people in the house. That's why some owners prefer to get a second cat at the same time to prevent this from happening.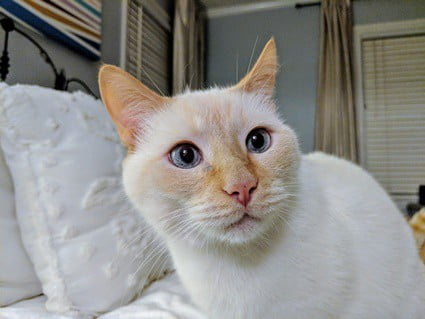 4/ Gentle
Despite having bundles of energy, Flame Points are sweet, gentle cats that are conscious of their owners' feelings. To show their affection, they rub their cheeks on their owners and gently bunt them with their heads.
As described by Current Biology, cats form complex relationships with their humans, and these behaviors are just some of the ways Flame Points show they feel bonded.
Flame Point Siamese like to snuggle up to their owners and enjoy spending time with them before wanting to play again. Most prefer to sit on their owners' laps, while some get into bed with them when they go to sleep.
5/ Curious
Flame Point Siamese cats are curious and love to explore anything new and unfamiliar. Cats that are allowed outside regularly visit their neighbor's homes, so it's a good idea to get yours microchipped and place a quick-release collar on it so that there's no doubt who it belongs to.
However, because Flame Points are rare, many owners prefer to keep them as indoor cats or create a catio in the garden where they can be outside without roaming off to new territories. They can retail for up to $4000 and this, coupled with their curious nature, makes them a prime target for thieves.
6/ Laid Back
Because 75% of Flame Points are male, they've inherited a laid-back personality. Females are more temperamental, but males are better at entertaining themselves for a little while. However, that doesn't mean they're laid-back cats, as they're energetic and can be pretty hectic as a result.
Male Flame Points tend to be more cuddly and affectionate and are more likely to be lap cats. They seem to trust more easily and make bonds earlier than females.
All Flame Point Siamese cats have different personalities, so not all males will be as laid back as each other. Training and socializing them from a young age also have a big part to play in how your cat's temperament develops.
7/ Obsessive
Because of their Siamese genes, Flame Points frequently engage in obsessive behaviors. Examples include constantly biting or licking themselves. They're also prone to pica, which is a condition where cats eat things that aren't food.
As described by Applied Animal Behavior Science, pica's more common in kittens and young cats and affect Oriental breeds more than most. Thankfully, most cats outgrow it before they reach the age of two. Common non-food items Flame Point Siamese cats eat include:
Brushes
Candles
Elastic bands
Dirt and soil
Garbage
Paper and cardboard
Plastic
String
Tape
Wool and fabric (blankets, carpet, and clothes)
While pica itself isn't dangerous, some of the non-food items your cat eats could be if they contain harmful bacteria.
8/ Protective
Like their Siamese family, Flame Point Siamese cats are considered one of the most protective and loyal cat breeds.
Because they form such strong bonds with their owners, they'll defend you from a threatening situation. This could be anything, from interacting with a person they don't recognize to an over-friendly visiting dog.
While Flame Points aren't naturally aggressive, they may display some physical behavior in defense of you, biting, scratching, and hissing at the danger.
However, as mentioned, this protectiveness can lead them to become jealous and, subsequently, turn into one-person cats. This is why all members of your household should spend time socializing with the cat from a young age.
9/ Intelligent
Like all Siamese cats, Flame Points are clever animals. They learn how to use puzzles and games quickly, so they need multiple sources of enrichment around the house. Scratching posts, climbing frames, and interactive toys will keep your cat entertained for hours, but you'll need to replenish toys to prevent your pet from getting bored.
Also, because they're so smart, they're easy to train. When using a clicker and positive reinforcement with a selection of tasty treats, they quickly pick up tricks.
They can even be taught to walk on a leash. Although not all cats enjoy this kind of training, so how much it's willing to do all depends on your cat's personality. With time and patience, you can certainly teach it the basics.
10/ Tolerant
Another trait Flame Point Siamese cats have is a high tolerance level, which means they don't mind being cuddled. Not only are they tolerant of people, but they're also capable of living with non-aggressive pets.
When you combine all of the personality and behavioral traits we've described, Flame Point Siamese cats are ideal for families, even those with young children.
However, as with all cats, you must teach children to be kind and gentle with their pets to avoid accidents or injuries. Doing so will also prevent your cat from getting too stressed out.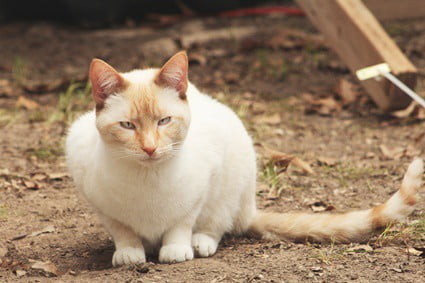 Are Flame Point Siamese Cats Mean?
Flame Point Siamese cats are affectionate, loving animals that enjoy spending time with their owners.
While they enjoy playing and spend most of the day being active, they're not purposely aggressive. They do sometimes bite and scratch accidentally while having fun, but they rarely mean it. Kitten Flame Points are more excitable, but even older cats have bundles of energy.
Note any anger or aggression, as this can be a symptom of a health condition or injury. Signs include:
Dilated pupils
Thrashing tail
Growling
Hissing
Biting and scratching outside of playtime
Crouched or tense body posture
Some Flame Points exhibit defensive behaviors in unfamiliar situations. This can make it seem like they're mean, but they're merely reacting to what's going on to defend themselves.
Common Flame Point Siamese Cat Behavioral Problems
While Flame Point Siamese are well-tempered cats with a happy attitude, they can become anxious and bored quickly, leading to destructive behaviors, such as:
Shedding
Excessive vocalizations
Accidents around the house
Aggressive behaviors as their owners leave the house
They can also be territorial once they've strongly bonded with their owners. While some cats are happy to be around other animals, there may initially be fights, especially at first while they're getting to know each other. This is why training and socialization at an early stage are so crucial.
If you're planning to get a Flame Point Siamese cat as a pet, consider how much time you have to spend entertaining it to prevent unwanted behaviors. As long as you provide your cat with games, toys, and mental stimulation, you'll have a happy and enriching life with your new pet. Here are some good names for a Flame Point Siamese cat.