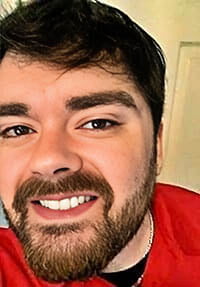 Like me, you're a real cat lover. You'd go to the ends of the earth for your senior cat, but it's not always easy.
You may have questions and worries; you may be facing a long-term condition (like your senior kitty has arthritis), or it may be a short-term illness (such as your cat not eating or drinking).
Who is Richard Parker?
I'm Richard and here to help. On this page, I tell you a little more about why I started this site.
I am a freelance writer and editor, experienced in all cat health-related matters, behavioral issues, grooming techniques, and general pet care. I earned a degree in journalism in 2008. I am the proud owner of 5 adult cats (all adopted strays), including a senior cat who is almost 20.
The Senior Cat Wellness Mission
What's my mission at Senior Cat Wellness? It's genuinely straightforward – to point the way to the best solutions and to find answers for your cat's issues.
The Senior Cat Wellness Vision
I have a single aim – to become the destination for those with questions and concerns about their senior cat. With every guide I write, I focus on providing support and unbiased advice to help you make the right decisions for your feline.
In the U.S. it's NOT dogs who are a man's best friend…
It's the classic debate – which makes the better pet? Dogs or cats? Americans sit on the kitty's side of the fence, with 85.8 million cats owned in the United States, compared to 78 million dogs (The American Society for the Prevention of Cruelty to Animals).
"51% of American cat-owning homes have more than one cat".
Follow in the pawprints of our followers
As it turns out, feline-lovers find a cute cat photo irresistible (which might be why our SeniorCatWellness Pinterest page is so popular).
If you want to keep up-to-date with Senior Cat Wellness, you can also find us on Facebook – where our cat page provides the latest news, views, tips, and advice from our writing team.
Senior Cat Wellness Youtube page is updated several times every week with some fresh videos full of cat information.
Where next, cat lover?
So that's enough about me and the future goals of this site. Now it's onwards and upwards. Where to next? You may find these senior cat questions helpful…
Contact
I'm always happy to hear from the readers of Senior Cat Wellness. So if you have any feedback, comments or just want to say hi, feel free to contact me via email at: richard@seniorcatwellness.com.
Founder, Writer, and Editor – Richard Parker